Is a Promise to Disobey a Police Officer's Order a Crime?
Sometimes, simmering tension between a probation officer and a probationer can reach a point where one side reacts in ways that are regrettable. Usually, the probationer ends up being the loser. However, in the following case, the probation officer made the mistake.
About This Article Briefly: A promise to disobey a probation officer's order in the future is not a violation of Penal Code § 148(a)(2), obstructing, delaying or resisting a police officer, because it did not actually obstruct, delay or resist the officer at the time.

Amanda A., a juvenile, came from a Shasta County family that was no stranger to child welfare services. Her family had moved from county to county over the years, living in not only Shasta County, but also Lake, Siskiyou and Solano Counties. In sixteen years, her family had been involved in three dozen child welfare referrals between the four counties. Her mom had a criminal history dating back to 1995 and her father had a lengthy criminal history involving drugs, theft, weapons and assault convictions.
In 2009, Amanda A. became a ward of the Shasta County Juvenile Court after she admitted to unlawfully causing a fire to a structure, a violation of Penal Code § 452(c). At that time, she was eleven years old and her mental competency was an issue, but she was released to the custody of her parents.
The following year, she was allegedly raped while at a party.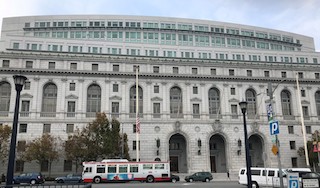 Court of Appeal First Appellate District San Francisco
Two years later, at age fourteen, she was arrested for the possession of marijuana (Health and Safety Code § 11357(e)) and granted informal probation again. The same year, she reportedly fell in love with a 28 year old man and ran away from home to live with him. This lasted for two years, during which time, she developed an addiction to methamphetamine (and daily use thereof), began to drink alcohol regularly and engaged in prostitution. She then was found in a Reno, Nevada homeless shelter and returned to her mother's custody.
As might be expected, her mom was totally unable to deal with her daughter, now 16. She was arrested yet again, this time for vandalism (Penal Code § 594(b)(2)(A)), exhibiting a firearm (Penal Code § 417(a)(2)) and giving false information to a police officer (Penal Code § 148.9(a).
The court decided she needed to be placed in a group home, but in the meantime, she would be referred to juvenile hall. Apparently, she liked juvenile hall so much that when a probation officer came to see her to speak to her about her release to a group home, she told the probation officer that when he came later to pick her up, she would refuse to leave juvenile hall. "She said she had everything she needed in custody" said the probation officer.
The probation officer reported this incident to the Solano County District Attorney, who filed a petition alleging she violated Penal Code § 148(a)(1), misdemeanor obstructing a peace officer. The case proceeded to trial and the judge adjudicated a violation of section 148(a)(1) this by Amanda A.
Amanda A. appealed to the First Appellate District, arguing that she did nothing more than verbally refuse to go to a group home. The First Appellate District noted that section 148 is most often applied to physical acts, but can apply to verbal acts as well.
People v. Quiroga
(1993) 16 Cal.App.4th 961, 968. In fact, in
Quiroga
, defendant refused to put his hands in his lap while in police custody. The court refused to view 148 as criminalizing a failure to comply with orders "with alacrity," saying the defendant had a constitutional right to dispute the officer's actions verbally, and his refusal to given his name before arriving at the jail did not thwart or delay his arrest or booking.
Quiroga
, p. 966.
In the case of Amanda A., her refusal did not actually obstruct the probation officer's performance of her duties, although it threatened to in the future.
Moreover, upholding the trial court's ruling would "effectively condone criminal charges based on a peace officer's subjective evaluation of a subject's oppositional attitude rather than the subject's actual conduct." Consequently, the appellate court reversed the order of the trial court.
For more information about the issues in this case, please click on the following articles:
Contact us.