Is a Prison Hunger Strike Likely to Lead to Violence?
Summary in 50 Words or Less: Participating in a hunger strike is not conduct likely to lead to a riot, so a Pelican Bay's inmate's punishment for this (being docked 90 conduct credit days) was ordered reversed in a ruling on a petition for a writ of habeas corpus.

Movies glamorize being in a criminal street gang as cool and powerful. However, the reality is often quite far from glamorous or popular.
In the year 2000, Jorge A. Gomez was relocated to Pelican Bay State Prison (PBSP). In 2003, due to his gang affiliations, he was relocated to PBSP's Secure Housing Unit (SHU). He remained there, in solitary confinement for more than a decade.
In July of 2013, PBSP authorities disciplined Gomez for refusing to eat nine consecutive meals. At the time, there was a state-wide hunger strike and work stoppage by California prison inmates to protest California's solitary confinement policies. Gomez was charged with violating § 3005(d)(3) of Title 15 of the California Code of Regulations which states, an "[I]nmate, shall not participate in a riot, rout, or unlawful assembly." His refusal to eat was termed a "serious" rules violation, a Division "D" offense.
By refusing nine consecutive meals, under Operational Procedure 228, Gomez was considered to be on a hunger strike. It was alleged that his hunger strike caused additional work load for custody and medical staff, resulting in delayed or canceled inmate service such as the law library, canteen, medical appointments and the yard for other inmates.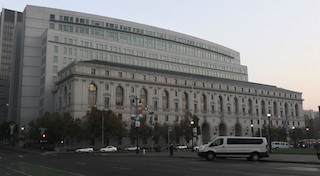 Court of Appeal First Appellate District San Francisco
PBSP authorities assessed Gomez 90 days conduct credits, which Mr. Gomez then appealed through a writ of habeas corpus to the First Appellate District.
The writ argued that there was not even "some evidence" that his behavior supported such a ruling because his not eating was not "behavior that might lead to violence or disorder or otherwise endanger facility, the outside community or another person "as required for such punishment under section 3005(a) of Title 15 of the California Code of Regulations.
The First Appellate District, in
In re
Jorge A. Gomez
(2016 DJDAR 3927) agreed with Gomez and restored his conduct credits. The writ was first filed on the Del Norte Superior Court, which denied the petition.
The reasoning is interesting in this ruling. Gomez argued that a hunger strike was a peaceful exercise of his freedom of speech. The Warden's opposition to the petition argued that the hunger strike was initiated by high-ranking prison gang leaders housed in Pelican Bay's SHU to have all California prisoners to simultaneously refuse food and refuse to work to disrupt CDCR operation throughout the state, It was a coordinated effort by prison gangs to loosen prison restrictions so that "more gang affiliates could be returned to the prison's general population where they can more easily facilitate gang business within the prison, including but not limited to drug-dealing, extortion and violence."
The opposition further described how such a strike had a large ripple effect on other staff in that they must closely monitor the inmate's caloric intake to accurately monitor the effects of the hunger strike on the prisoner's health. This requires the prison to guard against other prisoners sneaking in food to the fasting inmate to eat. This "disrupts prison programming."
The appellate court began its analysis by noting that prisoners in California have a statutory right to conduct credits, which creates a vested liberty interest to such credits.
In re
Johnson
(2009) Cal. App. 4th 290,297. The Due Process Clause in the U.S. Constitution ensures that this right is not arbitrarily abrogated.
Wolff v. McDonnell
(1974) 418 U.S. 539,557. To revoke such credits, the prison disciplinary board decision must be supported by "some evidence in the record."
Superintendent, Mass. Correctional Inst. v. Hill
(1985) 472 U.S. 445, 454.
Put another way, "the relevant question is whether there is any evidence in the record that could support the conclusion reached by the disciplinary board."
In re
Zepeda
(2006) 141 Cal. App. 4th 1493, 1498. The "some evidence" test must have some rational basis in fact.
In re Scott
(2005) 133 Cal. App. 4th 573, 590, fn. 6.
Turning to Section 3005 and whether there was "any evidence" that "might lead to violence or disorder," the appellate court pointed out that no one contended Gomez failed to obey a law, regulation or local procedure other than 3005(a) itself. At the administrative hearing, no one testified and the only evidence presented was that Gomez did not eat nine meals. There was not "some evidence" that Gomez did anything that might cause violence or disorder.
Accordingly, the court ordered Gomez's 90 days of conduct credit was restored.
The citation for the First Appellate District Court ruling discussed above is In re Jorge A. Gomez (1st App. Dist., 2016) 246 Cal.App.4th 1082.

For more information about being in custody in general, please click on the following articles:
Contact us.