Inglewood, Possession of Meth and Knife, Judicial Diversion
It was 8:15 a.m. on Mother's Day and our client went out to get his mom some coffee. As he was driving southbound down a four lane road to the coffee shop, officers heading northbound allegedly observed – across the 30 foot wide center divider – a large plume of marijuana smoke leaving the interior of the car. The officers also claimed they could smell it was marijuana, too.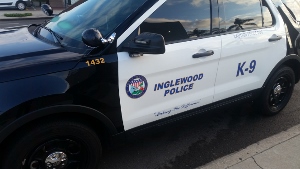 The police turned around and sped up to pull over our client, who was alone in the car. The police allegedly smelled a stronger odor of marijuana upon approaching the car.
In 30 Words or Less: Our client was arrested in Inglewood on Mother's Day at 8:15 a.m. by police for possession of methamphetamine and having his six-inch work knife on him. Case resolved at the Inglewood courthouse for judicial diversion where our client would earn a dismissal of the case by attending 26 Narcotics Anonymous (NA) meetings.

The officers asked our client if he had any weapons or drugs in the car and our client told the officers he had his six inch, fixed-blade work knife on his belt and a small amount of meth (one gram maximum) in a bag inside his pocket. The officers claimed the work knife was concealed by his shirt and not visible, but our client was sitting down at the time. The knife was in a leather holster that buttoned down.
Officers also found a meth pipe and two jars of fresh marijuana.
Our client was then arrested and later charged with carrying a dirk or dagger (a violation of Penal Code § 21310), possession of a controlled substance (a violation of Health and Safety Code § 11377), and possession of drug paraphernalia (a violation of Health and Safety Code § 11364).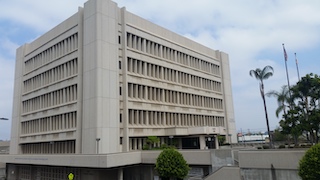 Inglewood Courthouse
After being arrested, he called Greg Hill & Associates and met with Greg at the office. Greg listened to facts of the case and immediately became dubious of the traffic stop, as a plume of smoke from a moving car is usually not visible and the smell is even less likely to be detectable, let alone by a car going the opposite direction and of some lateral distance.
Greg stated that a motion to suppress the evidence might be a first option, especially because the client did have a conviction for reckless driving from six years earlier in another county, which made him ineligible for judicial diversion (under AB 2124, codified at Penal Code §§ 1001.94 to 1001.98).
The two also discussed the dirk or dagger charge and how his knife may not have been visible from an officer looking in on our client sitting in a car, it would have been visible if the client had been able to exit the car.
Greg explained that there was a chance judicial diversion could be offered, as our experience with out-of-county convictions is that they often do not show up when the prosecution runs a Livescan background check.
At the arraignment, Greg Hill appeared in the Inglewood courthouse and looked through the file. The Los Angeles County Consolidated Criminal History System summary showed our client had no prior convictions at all, but the Livescan printout showed his prior conviction.
Greg consequently showed the young prosecutor the Los Angeles County Consolidated Criminal History System summary and said, "this suggests our client is qualified for judicial diversion" and the prosecutor agreed. He then looked through the file and missed the Livescan printout.
Greg then appeared for the arraignment and told the judge that the Los Angeles County Consolidated Criminal History System summary shows our client was eligible for judicial diversion. The prosecutor agreed.
The judge then granted our client's request for judicial diversion, assigning him 26 Narcotics Anonymous meetings to earn a dismissal of the case.
The client was extremely happy with this, as he knew that he really needed the case dismissed with his employment situation and, more importantly, he really was not eligible but for the prosecutor's negligence.
For more information about judicial diversion and carrying a dirk or dagger, please click on the following articles:
AB 2124 – The New Pilot Program for Diversion of First-Time, Low Level Offenders in Los Angeles County Only
Contact us.