In Resentencing a Third Strike, is Stalking Eligible?
In a Nutshell: In the following case, defendant was convicted of stalking (Penal Code § 646.9) and found ineligible for Prop 36, the Three Strike Resentencing Act, but the Second Appellate District Court suggested that its ruling was fact specific to this case, so it was not a broad rule barring all those convicted of a third strike under 646.9 from Prop 36 relief.

The answer to the question posed in the title is maybe. After all, the crime of stalking, set forth at Penal Code § 646.9, does not require the intent to carry out the threatened acts.
Consequently, under the Three Strikes Reform Act of 2012, also known as Prop 36 (at Penal Code § 1170.126), it would seem possible. Under § 1170.126(e)(2), an inmate is eligible for resentencing if his or her current sentence was not imposed for an offense appearing in Penal Code § 667(e)(2)(C)(ii), where, during the commission of the offense, defendant "intended to cause great bodily injury to another person."
However, in determining an inmate's eligibility for resentencing under Prop 36, the trial court may examine all relevant, reliable and admissible material in the record to determine the existence of a disqualifying factor.
People v. Blakely
(2014) 225 Cal.App.4th 1042, 1048, 1051; see also
People v. Guererro
(1988) 44 Cal.3d 343, 355.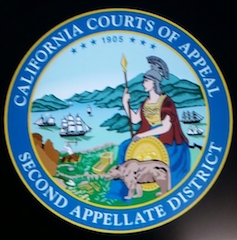 Court of Appeal Second Appellate District Los Angeles
The case of James Belton Frierson showed the statute and Blakely at work, while overruling a 2016 case, People v. Arrevalo (2016) 244 Cal.App.4th 846. Frierson was in prison when his wife wrote him, notifying him that she intended to divorce him. In response, Frierson wrote a series of letters, alternatively telling her in one that he was not going to hit her, but just wanted to talk to her. In another letter, he told her he would "track her down," that he would "hurt" her and he would kill her for causing him so much pain. In another letter, he told her would do something "real bad" to her. He told her to "mark my word."
Frierson was then convicted of violating Penal Code § 646.9 and sentenced as a third striker to an indeterminate term of 25 years to life in prison.
Prop 36 was then passed and Frierson petitioned the Glendale trial court judge to recall his conviction and resentence him under Proposition 36. The judge denied his petition, looking at the whole record as allowed under
Blakely
. In doing this, the judge determined that Frierson intended to cause great bodily injury to another person, specifically his wife.
Frierson then appealed to the Second Appellate District, arguing that under
Arrevalo
,
supra
, that once petitioner makes a prima facie case of eligibility (as Frierson did here), the burden of proof is on the prosecution to show the petitioner is ineligible.
Arrevalo
says the burden of proof is beyond a reasonable doubt. Frierson argued that the People had failed to carry this burden of proof.
The Second Appellate Court, in
People v. James Belton Frierson
(2016 DJDAR 7352), ruled that
Arrevalo
should not apply. In considering
Arrevalo
, the Second Appellate District said "we are not convinced" and ruled instead that the People's burden of proof really should be preponderance of the evidence, a much lower burden of proof. In reaching this conclusion, the court cited to
People v. Superior Court
(
Kaulick
) (2013) 215 Cal.App.4th 1279, 1301, wherein the preponderance of the evidence standard was used, as well as in
People v. Osuna
(2014) 225 Cal.App. 4th 1020, 1040.
The Second Appellate District thus affirmed the trial court, explaining that its analysis under
Blakely
was what mattered most, given Frierson's threats.
We certainly understand this ruling and agree that under Blakely, Frierson should not be resentenced. However, we disagree with the court overruling Arrevalo, a 2016 case, by citing to 2013 and 2014 cases. More importantly, we agree with Arrevalo's concern that if the burden of proof is too low, prosecutors and judges may be able to undo acquittals to form the basis for denying Prop 36 relief. That should not happen, but it can with a lower burden of proof.
The citation for the Second Appellate District Court ruling discussed above is People v. James Belton Frierson (2d App. Dist., 2016) 1 Cal.App.5th 788 (reversed by the California Supreme Court at People v. James Belton Frierson (2017) 4 Cal.5th 225).

For more information about resentencing on a third strike, please click on the following articles:
Contact us.