If Granting Prop 47 Relief, Must Judge Lower Total Sentence?
In March of 2014, John Manuel Guiomar entered into a plea bargain that resolved four cases, resulting in four convictions. The Monterey County judge imposed a total sentence of six years, based on a four-year term for robbery, a consecutive sixteen-month term for burglary (P.C. § 459), a consecutive eight-month term for failure to appear on a felony charge and a concurrent term of two-years for possession of a controlled substance. The original robbery and burglary sentences were doubled due to Guiomar's prior strike.
The Gist of this Article: In granting Prop 47 relief, the judge does not need to lower the total sentence. In the following case, the Sixth Appellate District held that the judge can resentence defendant, but not to a longer total term.

In November of 2014, California voters passed Proposition 47, which reclassified certain felony drug possession offenses and certain felony theft offenses as misdemeanors. Mr. Guiomar then petitioned the sentencing judge to be resentenced under Penal Code § 1170.18(e).
The sentencing judge, in response, did more than what Mr. Guiomar expected. As expected, he did reclassify the felony conviction for burglary and possession of a controlled substance as misdemeanors. However, the judge was not done. He then resentenced Guiomar to another six-year aggregate term by imposing a six-year term for the robbery (up from four years earlier) and a concurrent four-year term for the failure to appear. This was not expected by Guiomar.
Consequently, Guiomar filed a writ of habeas corpus, arguing that the trial court judge lacked jurisdiction to increase the terms of his robbery and failure to appear convictions. He also contended that the trial court erred by failing to vacate his conviction for failure to appear on a felony charge because the underlying felony offense was the possession of a controlled substance count, which had been reduced to a misdemeanor.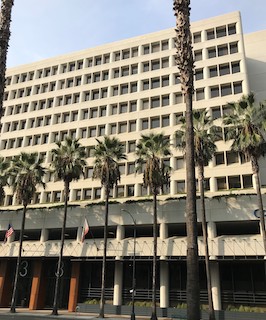 Court of Appeal Sixth Appellate District San Jose
The Sixth Appellate District, in
In re
John Manuel Guiomar
(2016 DJDAR 11162), held that when a defendant's aggregate sentence includes multiple felony offenses, some of which are reduced to misdemeanors pursuant to Prop 47, a trial court may resentence defendant to increased terms for the remaining felony convictions, so long as the new aggregate sentence does not exceed the original aggregate sentence.
People v. Sellner
(2015) 240 Cal. App. 4th 619, 701-702 and
People v. Roach
(2016) 247 Cal. App. 4th 178,183.
In other words, it held that when a defendant is convicted of a failure to appear on a felony charge, but the underlying felony charge is later reduced to a misdemeanor pursuant to Proposition 47, the trial court is not required to vacate the felony failure to appear conviction. In Guiomar's case, the gist of the failure to appear, Penal Code § 1320.5, is the "act of jumping bail,"
People v. Walker
(2002) 29 Cal. 4th 577, 585, not the nature of the crime for which the defendant is ultimately convicted, drug possession in Guiomar's case. Moreover, the person can be convicted of failure to appear even if the underlying charge is dismissed.
Walker
, p. 583. Thus, the court overruled this argument of the appeal, too.
We at Greg Hill & Associates understand this ruling, but can't help but note before that the trial court's decision to resentence Guiomar to higher terms on parts of the sentence reflects the adage, "be careful what you ask for." This case, as well as the decisions in
Seller
and
Roach
, should be well understood by anyone seeking resentencing when there is an aggregate sentence.
When there is such a sentence, it would be wise to carefully recognize the possibility of no charge in the sentence. One should consider the attitude of the judge toward defendant. Was he or she sympathetic to defendant? Did the judge make any comments about-the terms of the plea bargain being unusually good or light?
It is also wise to consider the reputation of the attorney representing Defendant. Did the judge respect him or her? Did the judge scold the attorney or seek to embarrass him?
Lastly, it is smart to consider the type of case involved. It is politically looked upon as intolerable? Would a judge, up for re-election, use defendant's resentencing to enhance a "tough on crime" reputation? Would the judge see the case as having no real victims or is it a big public safety issue in the news?
In other words, this decision on Guiomar's petition for resentencing can be avoided by the reader of this article by analyzing whether to file the petition for resentencing prior to doing so.
The citation for the Sixth Appellate District Court ruling discussed above is In re John Manuel Guiomar (6th App. Dist., 2016) 5 Cal.App.5th 265.

For more information about Prop 47, please click on the following articles:
Contact us.