I Was Arrested, But Not Cited and Released – Illegal?
Our office is often asked by folks arrested for minor crimes why they were not simply cited and released. Sometimes, the client believes there is a civil rights violation by the police because the client was forced to spend a few hours, or maybe even a night or even two in jail before being released or posting bail. The person often thinks that the bail bondsman and the police have some improper, special agreement to force people to post bail when it is not required just to enrich the bail bondsman.
The Point of This Article: A person may be cited and released for any infraction or misdemeanor, subject to multiple exceptions based on public safety.
This article seeks to clarify what rights one has once arrested to be simply cited and released.
Penal Code § 853.6(a) holds that, subject to certain exceptions, anyone arrested for committing an infraction or a misdemeanor, who does not ask to be taken before a judge, must be released on signing a written notice to appear. This is a signed promise to appear that the arrestee must sign to be released and then appear in court on a later date, usually a few weeks later.

Such a notice to appear is called a citation. It directs a person to appear in court at a specific time and place. At that time, the judge can then set bail or continue to allow the person to be free on his or her own recognizance ("OR") under Penal Code § 1270(a).
As mentioned, there are exceptions to a cite and release. The exceptions are based on public safety for the most part.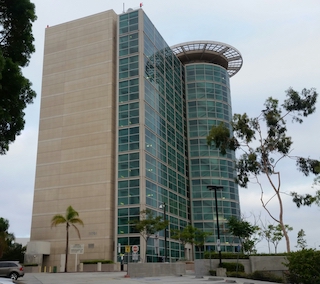 Airport Courthouse
A person arrested for a misdemeanor violation of a domestic violence protective order issued under Penal Code § 13700, or under law enforcement policies for handling domestic violence calls must be held unless the arresting officer determines there is no reasonable likelihood that the arrestee poses an imminent danger to people or property. This is the only category of offenses that is non-discretionary.
The police have discretion, however, otherwise. This includes for someone with outstanding warrants, when the arrestee cannot provide proper identification, when release of the person would jeopardize prosecution of the offense for which the person was arrested or any other offenses. This last "catch-all" category expresses a concern for destruction of evidence and witness intimidation, as well as a concern that the arrestee will leave the state or country if released.
The police can also exercise their discretion and refuse to release someone from jail if the police believe the crime would continue or the safety of persons or property would be imminently endangered by releasing the arrestee. The most common example of this is someone arrested for DUI or for being under the influence of a controlled substance.
The other exceptions include when an arrested person is so intoxicated that he or she may be a danger to himself or others. Also, if an arrestee requires medical attention or examination, the police can refuse to release a person.
If an officer decides not to cite and release an arrestee, he must state the reason on a form provided by law enforcement under Penal Code § 853.6(j).

Lastly, it merits mention that a peace officer may not cite and release a person arrested for an offense that is a "wobbler." This is an offense that can be charged as felony or a misdemeanor, such a domestic violence (Penal Code § 273.5) 58 Ops. Cal. Atty. Gen 886 (1975).
Update:
as of October 2019, anyone cited for a misdemeanor is supposed to be simply released with a promise to appear in court at a later date. Money bail is abolished. However, police are allowed to hold a person for further review if the person falls under one of eleven exceptions to this general "catch and release" policy.
For more information about bail in general, please click on the following articles:
Contact us.