Hollywood, Providing Alcohol to a Minor, Prefiling Diversion
Our client from Whittier was out at a popular and historic Hollywood club with friends and family. The club was on Vine Street. One of her family members, her cousin, was 19, but allowed entrance to the club on condition she wear a certain wristband to mark her as under 21.
Our client was 23 and in nursing school. She hoped to someday become a registered nurse. She was approximately half way through the curriculum.
The Gist of This Summary: Client ticketed at the Avalon nightclub for violating Business & Professions Code § 25658(a), furnishing alcohol to a minor. Greg contacts the Los Angeles City Attorney office on the client's behalf and requests diversion for our client, which is granted and, after 40 hours of community service and 20 Alcoholics Anonymous meetings, the case is deemed a no file, so no conviction at all.

The club was packed with people dancing to loud music. It was almost intoxicating just to be inside in such an atmosphere, however, not quite intoxicating enough for our client and her younger sister. Our client thus went to the bar and ordered a drink, which she brought back and gave to her seventeen year old sister.
Our client then returned to the bar and ordered a second drink for herself.
No sooner had she returned to the group's table than a plain clothes officer approached her and asked that she follow her to a back office. Our client was confused and scared, but suspected she was being selected because she did provide her younger sister with alcohol.
Once she stepped into the fully-lighted office, she was asked what kind of drink it was that she gave her sister. Our client stated it was a vodka tonic and was immediately cited for violating Business and Professions Code § 25658. She signed a promise to appear in court at the Central Criminal Courts Building, or CCB (in the Clara Shortridge Foltz building), in about two months.
When she returned to her table, she was told that the drink she gave to her cousin was mysteriously taken away by a bartender.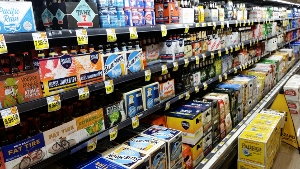 When she returned home, she looked at the promise to appear and did a little research into Business and Professions Code § 25658. She learned that it was a misdemeanor and not just an infraction like she originally thought. After all, no one was hurt, so she did not think it was a big deal.
However, she read that the fines could reach $1,000, plus penalties and assessments (meaning close to $4,500 payable to the court) and required a minimum of 24 hours of community service at a coroner's office or a drug and alcohol treatment facility. More importantly, she realized with great soberness that the misdemeanor conviction would seriously jeopardize her receiving her registered nurse license.
She called Greg Hill & Associates and spoke to Greg Hill. Greg listened to the facts and explained that what was possible was for her to avoid the minimum fine and community service by being accepted to one of many pre-filing diversion programs. Greg commented, however, that such programs were limited and often did not accept fully qualified people such as our client. In his experience, such programs seemed to come and go under various names, but always with a form of diversion available for first-time offenders for minor misdemeanors.
Greg however, promised to write the District Attorney's office at CCB as soon as possible and request such a program for our client. Greg Hill & Associates then did so and to our great surprise and satisfaction, our client was accepted to the Neighborhood Justice Program.
This was a lucky and very fortunate turn of events. No case was even filed. Instead, our client was required to perform 40 hours of community service and attend 20 Alcoholic Anonymous meetings. It preserved our client's intended career and meant the years of studying she already had completed were not made worthless. Her future remained bright.
For more information about the issues in this case, please click on the following articles:
AB 2124 – The New Pilot Program for Diversion of First-Time, Low Level Offenders in Los Angeles County Only
Contact us.