Hollywood, Felony Domestic Violence Arrest, No File at CCB
Our client, age 32 and from Sweden, was working in the United States for a film company and his girlfriend, from Italy, was going to college at Cal State Los Angeles. The two had met each other in Hollywood, where he lived.
The two had been dating off and on for two years, but had never lived together. The reason was because the Italian was an epileptic and perceived her disability as something men would find bad. She wanted a man to love her for who she was and only then, reveal her medical condition.
Why This Article Matters: Client's girlfriend has an epileptic seizure and the client tries to calm her down, not knowing what is happening. Neighbors hear the commotion and call the police, who come and arrest our client. Greg explains the situation to the District Attorney, who agrees not to file a case.

Their relationship was good, but not too serious. However, he had proposed that they begin living together and she accepted his suggestion.
School for her had finished for the semester and she applied for a job as a flight attendant. It was a way for her to travel and she was excited. Due to the stress of final exams, while interviewing for the flight attendant position no less, she had neglected to refill her epilepsy medication from her doctor in Italy.
Then quite quickly after her supply ran out, she had an epileptic fit while at her boyfriend's home. It was quite serious and he had no idea what was happening. He tried to restrain her violent shaking and in doing so, he bruised her shoulders and cut her lip. Reflexively, but without intending to, she scratched his chest in multiple places with her fingernails.
The commotion caused the neighbors to call 911 and the Los Angeles Police Department showed up. By the time the police arrived, the epileptic fit had passed and the Italian had regained her composure, but was puzzled why her lip was bleeding.
Police knocked on the door and our client answered the door, blood staining his white t-shirt and blood on his hands. In a thick Swedish accent, he tried to explain how he did not know what happened, but that he was trying to restrain her.
His girlfriend, who spoke limited English and was much smaller, was speechless. Police regarded our client's explanation as utter lies and arrested him on charges of violating California Penal Code § 273.5, a felony. Bail was set at $50,000.
Our client did not understand that he could post a bail bond and be released after agreeing to pay perhaps 8% of the $50,000. In Sweden, one must deposit the full amount of the bond to be released. He therefore remained in jail.
His girlfriend contacted Greg Hill & Associates. Greg discussed the case with her. She explained her epilepsy condition and e-mailed Greg documents that showed her condition, her medication and that she reported to a free health care clinic the day after the incident, seeking medication for her seizures.
Two days later, her boyfriend faced his arraignment at the downtown Los Angeles Central Criminal Building (CCB), also known as the Clara Shortridge Foltz building.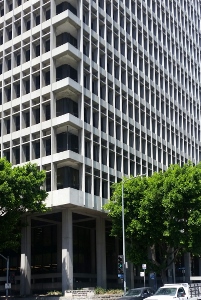 Clara Shortridge Foltz Criminal Justice Center (CCB)
Greg appeared for the client, but at first, the case was not filed. So Greg went up to the sixteenth floor of the courthouse and discussed the case with the filing district attorney. Greg explained the girlfriend's condition and showed the skeptical prosecutor the documentation regarding her epilepsy. He explained that the client was unaware of her condition, so he did what a normal person would do, he tried to protect her from herself. He did not want her to hurt herself.
The prosecutor stated, in response, that he would think about it. At the end of the day, eight hours after Greg arrived at the courthouse, the prosecutor announced they were not proceeding with charges and that our client would be released.
For more information about self defense and domestic violence, please click on the following articles:
Contact us.