Fullerton, Public Urination, Dismissed After $300 Donation
Our client, age 24, was out in downtown Fullerton with friends to celebrate his birthday. The group decided to visit multiple bars as part of a drinking game they had done before and had fun.
As the evening neared 2:00 a.m., the group was asked to leave one bar, but agreed to try to get into one more. They rushed out of one bar toward the other one, leaving the group split up. A few people made it to the last bar and some did not.
The Gist of This Summary: Fullerton public urination ticket dismissed after our client's motion for civil compromise is granted.

Those that did not make it included our client. He and another friend decided to wait for the rest of the group outside a pizza parlor on the corner of West Wilshire near the Back Alley Bar and Grill.
As is not uncommon with drinking a good bit of beer or other alcohol, one often must urinate. This need befell our client, so he attempted to gain entrance to the pizza parlor to use their restroom. The manager of the pizza parlor told him he was not going to reopen the restaurant.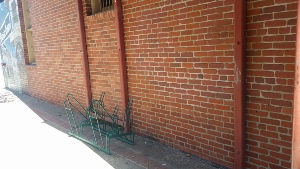 Our client was not angry about this, but inexplicably decided to simply urinate right at the entrance to the pizza parlor. Just as he was "midstream," two uniformed police officers from the Fullerton Police Department walked by and wrote up our client for a violation of Fullerton Municipal Code § 7.110.010(a), public urination. This is a misdemeanor, although it is infractable, meaning a prosecutor can use his discretion to lower the level of the offense to an infraction under certain circumstances.
Our client respectfully signed the promise to appear in court about a month later and took the ticket. The police officers then left.
The next day, our client looked over the ticket a little closer and realized the offense was a misdemeanor. He realized this was more serious than he ever expected. He did a little research on the Internet and became concerned that he might have to register as a sex offender. He was devastated, as he was a full-time student and worked full time as an assistant manager at a local fast food restaurant. He was just getting his feet on the ground and this ticket seemed to jeopardize everything.
Regardless of whether he had to register as a sex offender, he also did not want a misdemeanor conviction on his record, as it could disqualify him from employment advancement, student loans and even renting an apartment with some landlords.
He therefore went to the court house a few weeks before his arraignment to anxiously ask a few court employees what he should do. Each employee simply told him to hire an attorney.
One day before his arraignment, the client called Greg Hill & Associates and spoke with Greg. Greg reassured him that he would not have to register as a sex offender under these set of facts and that such an obligation was extremely rare for a judge to impose (the case would have to be brought more so as an indecent exposure case).
Greg also discussed the facts with the case and explained what he hoped to negotiate with the prosecutor the next day. The client had called several other attorneys first, but hired Greg after speaking with him.
Greg then appeared on the client's behalf the following morning in the Fullerton Superior Court. The Fullerton City Attorney discussed the case with Greg very briefly and then, in what seemed to be a gesture of great leniency, offered to lower the offense to an infraction with a fine of $285 (a base fine of $50, plus penalties and assessments totaling $285).
Greg thanked the prosecutor for the offer, but gently inquired if our client could earn a dismissal by attending a set number of Alcoholics Anonymous (AA) meetings, perhaps 30 or 40. Greg shared a small bit of information about our client personally, which included his lack of a prior criminal history and his being a full-time student. This information seemed to engender a small amount of empathy from the prosecutor.
The prosecutor then responded that instead of an infraction, our client could make a $300 donation to a victim / witness relief fund downstairs in the courthouse and the prosecutor would dismiss the case.
Greg shared the news with our client, who agreed to make the donation, relieved that Greg had respectfully, but deliberately pushed the prosecutor past the first offer and suggested an alternative resolution, which the prosecutor agreed to extend.
For more information about public urination, click on the following articles:
Contact us.