Birthday Celebration, Public Urination, Judicial Diversion
It was the birthday for our client, age 23. She was a college graduate, now working as a nanny. Her friends took her out to Hermosa Beach for drinks and dinner and the night was great. They danced and had a great time together.
The evening came to a crashing halt, however, as our client was walking over to the taxi loading zone along Hermosa Avenue, between Eleventh and Pier Avenue. It was at this time, having left the bar, that she felt the need to urinate. She went back toward the bar to ask to use their restroom, but the bouncer said "no."
In a Nutshell: Client ticketed for "public nuisance" (Penal Code § 372) for urinating in public in a parking lot in Hermosa Beach after her birthday celebration with lots of drinking. The case was resolved ultimately with a dismissal through judicial diversion, a program that is no longer available.

She knew she could not make it through a 30-minute taxi ride home, plus the wait just for the taxi to arrive. So she decided to squat between two parked cars in the large parking lot just south of Pier Plaza.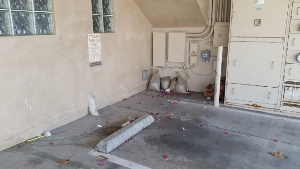 Parking Lot in Hermosa Beach
Little did she know, but at 2:00 a.m. and 2:45 a.m., two or three Hermosa Beach police officers patrol this lot, as well as the new multi-level concrete parking structure north of Pier Plaza. Such officers are there to break up fights, arrest folks for public intoxication and prevent people who are obviously too drunk to drive from driving.
However, what they do most often is hand out tickets for public urination. This is exactly what they did with our client after she pulled up her pants. She was petrified that anyone even saw her and knew what she was doing and then embarrassed to receive a misdemeanor citation for public nuisance, Penal Code § 372.
Our client, being 23 years old, did not really understand the gravity of being charged with a misdemeanor until she moved back home to Washington State and looked closer at the citation. After all, she had never been charged with a misdemeanor and had no familiarity with our criminal justice system. She then researched the charge online and panicked a bit.
She called Greg Hill & Associates and spoke with Greg Hill. Greg listened to the client explain the circumstances of her ticket and then explained how such matters are often resolved in the Torrance Superior Court when the client has no prior criminal history.
Greg explained how Los Angeles County judges have the power and discretion to offer judicial diversion over a prosecutor's objection. Such a program, codified at Penal Code §§ 1001.94 to 1001.98, allowed someone like our client to "earn a dismissal" by satisfying the terms and conditions set by a judge, tailored to the offense and the facts.
Our office then went to the arraignment on behalf of our client (she stayed in Washington State) and requested that the judge offer judicial diversion. The judge did so over the Redondo Beach City Prosecutor's argument that the judge should use his discretion to decline judicial diversion because it was "aggravated" public urination because it was a female.
The conditions set by the judge were that our client attend 26 Alcoholics Anonymous (AA) meetings and make a $550 "contribution" to the Hermosa Beach Nuisance Abatement Fund (to install new public restrooms to prevent incidents of public urination and to install better lighting near the restrooms and better signage directing people to the restroom locations). If the client attended the AA meetings, made the $550 contribution and stayed out of trouble for a year, the case would be dismissed.
Our client gladly accepted the terms of judicial diversion. She was very happy to be given the opportunity to avoid any conviction at all, given the tough job market where any conviction for something other than for a parking ticket could mean being rejected for a job.
For more information about public urination, diversion and judicial diversion, please click on the following articles:
AB 2124 – The New Pilot Program for Diversion of First-Time, Low Level Offenders in Los Angeles County Only
Contact us.