Extortion Conviction Affirmed for Website Owner & Operator
From 2012 to 2014, a group of individuals, mostly women, discovered photographs of themselves, including nude photographs, posted without their permission on a website called UGotPosted.com. The subjects found their name, hometown and social media addresses also posted on the site. Most of the photographs were taken by former significant others or then-friends.
Why This Article Matters: Conviction for extortion (Penal Code § 520) affirmed in cases against website operator who posted photographs of nude women and men without their consent, but offered to remove such photographs for a fee.

Some of the photographs were while the subject was drugged or otherwise compromised and unaware that they were being photographed.
Victims were then often sent vulgar messages from strangers through social media. In response, many contacted the site administrator of UGotPosted.com to try to get their photographs removed. They were then directed to a web site called ChangeMyReputation.com, where victims were told that for payment of a specific amount of money, their photographs and information would be taken down. Six victims did pay such money.
Kevin Christopher Bollaert was the administrator and registered owner of the UGotPosted website. He added, maintained and deleted content. He had the only user account for the website. He decided what would be posted, placed watermarks on each photograph to discourage others from stealing the pictures. He kept a spreadsheet recording every single post and would not allow photographs to be posted unless they included nude persons. He removed pictures of minors.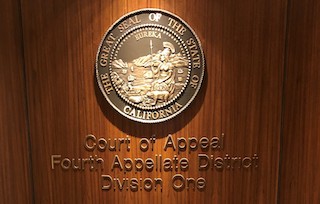 Fourth Appellate District Court of Appeal Division 1 San Diego
Through advertising, he received about $800 to $900 per month.
He also set up and managed ChangeMyReputation.com. Through this, he received over $30,000 from victims, who made payments to his PayPal account.
Bollaert was eventually arrested, tried and convicted in San Diego County Superior Court on 29 counts, split between extortion (Penal Code § 520) and unlawful use of personal identifying information (Penal Code § 530.5(a)). The judge sentenced Bollaert to a split sentence of 18 years; eight years in local confinement (county jail), followed by ten years of mandatory supervision (formal probation).
Bollaert appealed his conviction to the Fourth Appellate District. He argued that he did not commit extortion because he did not directly or indirectly threaten any victim to expose a secret because the photographs were already in the public domain and he merely engaged in a practice whereby legally posted information could be removed.
He also contended that his convictions under Penal Code § 530.5(a) had to be reversed because of insufficient evidence because he was immunized under the Communications Decency Act (47 U.S.C. § 230(c)(1)) as an "interactive computer service" and did not take action to create the content of his website. This article, however, will only discuss his appeal of the extortion convictions.
"Extortion is the obtaining of property from another, with his or her consent . . . induced by a wrongful use of force or fear." Penal Code § 518. Fear, for purposes of extortion, "may be induced by a threat of any of the following: . . . [t]o expose or impute to him . . . a deformity, disgrace or crime" or "expose a secret affecting him or her." Penal Code § 519; see
Flatley v. Mauro
(2006) 39 Cal.4th 299, 326.
"In order to establish extortion, the wrongful use of force or fear must be the operating or controlling cause compelling the victim's consent to surrender the thing to the extortionist."
Chan v. Lund
(2010) 188 Cal.App.4th 1159, 1171, quoting
People v. Goodman
(1958) 159 Cal.App.2d 54, 61.
The "secret" is a matter "unknown to the general public, or to some particular part thereof which might be interested in obtaining knowledge or the secret. The secret must concern some matter of fact, relating to things past, present or future. The secret must affect the threatened person in some way so far unfavorable to the reputation or some other interest of the threatened person, that threatened exposure would be likely to induce him through fear to pay out money or property for the purpose of avoiding the exposure."
Philippine Export & Foreign Loan Guarantee Corp. v. Chuidian
(1990) 218 Cal.App.3d 1058, 1078.
Threats can be made by innuendo and the circumstances under which the threat is uttered and the relations between defendant and the target of the threats.
Extortion is a specific intent crime and thus guilt depends on the intent of the person who makes the threat and not the effect the threat has on the victim.
People v. Umana
(2006) 138 Cal.App.4th 625, 641.
In reviewing the facts, the appellate court found Bollaert committed the threat by referring victims who desired to remove the offensive content to ChangeMyReputation.com for purposes of having them pay to remove it.
Victims could infer that if they did not pay the fee, the offensive content would remain on the site for further public view. Moreover, there was no question that the display of their private images and information subjected them to shame, disgrace and embarrassment as to their reputation and character.
The underlying convictions were consequently affirmed.
The citation for the Fourth Appellate District Court ruling discussed above is People v. Kevin Christopher Bollaert (4th App. Dist., 2016) 248 Cal.App.4th 699.

For more information about white collar crimes, please click on the following articles:
Those Accused of Smuggling Illegal Immigrants to the U.S., Charged with Kidnapping for Ransom, Can Also Be Charged with Attempted Extortion and False Imprisonment
Contact us.