El Segundo, Client Allegedly Bites Wife, Plea to Only PC 242
Our client, age 44 and with no criminal history, was in the process of divorcing his wife. She had admitted to cheating on him and he was not happy with this dishonest conduct, especially for the ramifications that might affect their fourteen year old son.
The couple was sharing custody of their son and one weekend, their son asked to spend the night at a friend's house who our client liked, but his then-wife did not. The two argued over whether their son should spend the night at the house.
Brief Synopsis: Client allegedly bites hit wife, but the injury was caused by the wife falling into a coffee table due to her being drunk and the photos corroborated this, but the client admittedly did push her in self-defense. Case resolved for simple battery (Penal Code § 242) in the Airport Courthouse, avoiding a conviction for domestic violence that his wife wanted to overshadow her cheating on him.

The wife became extremely emotional about the issue, but our client did not see the issue as quite so emotional. In an attempt to get him to argue more passionately, she pushed him into the wall over this issue. Our client sensed she was drunk, so he did not respond to her. She tried pushing him again and fell down due to just losing her balance, hurting her back on a sharp corner of a coffee table. She got up, embarrassed, but determined to prevail somehow.
She therefore called our client a racial term (he was African American, she was Caucasian). Our client then responded, pushing her back as she got so close to his face that her words were laced with spittle. His push was exactly what she wanted, so she excitedly called the police, gleefully looking at our client as if to say "got you!"
Our client fully admitted to pushing her and was arrested. His wife celebrated, even claiming that he bit her on her back where she bumped herself on the coffee table corner.

Our client was charged with felony domestic violence (Penal Code § 273.5), assault with a deadly weapon (Penal Code § 245(a)(4)), his teeth, and child neglect (Penal Code § 273A(b)). The wife was overjoyed, believing that this case would somehow allow her to save face after cheating on him.
The client came to Greg Hill & Associates very depressed over being arrested and charged. He could not believe that the police believed his wife's story. The prosecutor handling the case was mean to him and made an offer to plea bargain that included having our client serve 90 days in jail.
He then hired Greg Hill & Associates. Greg listened to the client's story and immediately substituted in. He received the police report and the photographs of the alleged bite injury. He also listened to the 911 calls and compared these to the stories the wife told the police.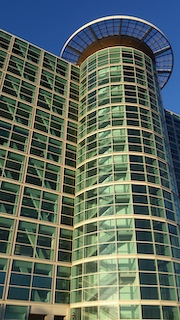 Airport Courthouse
Greg first showed the prosecutor at the Airport Courthouse that the injury to the wife's back was not in the shape of a bit injury and was more consistent with a fall on a sharp corner of a coffee table. The prosecutor agreed, as she had seen bite injuries before and acknowledged that bite injuries using include a semi-circular ring of marks, but the wife's injury in this case did not include this at all.
Greg also listened to the 911 calls and pointed out to the prosecutor that the 911 calls only said that our client bit her and pushed her. However, once the police arrived at the scene, the wife told them that our client had punched her in the face and dragged her around the house by her feet.
Furthermore, at first she reported no prior incidents of domestic violence, but when asked this same question two days later in the follow-up report, she described two prior incidents, supposedly involving pushing her in one instance and another where he dragged her down the stairs.
Greg pointed out to the prosecutor that if this case went to trial, the wife's credibility would be a big issue for the jury. However, our client had indeed admitted to pushing his wife, but really only in self-defense.
The prosecutor agreed to compromise. She would not simply dismiss the case, although she acknowledged a jury might find he acted in self-defense. She instead proposed to add a Count IV, simple battery, and dismiss the first three counts originally alleged. She said that if our client pled to the amended count, she would delete the jail term of 90 days and replace it with 30 days of community service instead. As it was a domestic violence case in nature, our client would still have to attend the 52 sessions of a batterer's program.
Greg explained the proposed plea bargain to the client, who was very happy to avoid a day in jail. He accepted the plea bargain proposed by the prosecutor, mindful that if he rejected the deal, the case would go to trial and he faced a full year in county jail.
For more information about domestic violence issues, click on the following articles:
Federal Lifetime Ban on Owning a Firearm Applies After Misdemeanor Conviction for Domestic Violence under California Law
Contact us.