Domestic Violence Testimonials
Pursuant to California Rules of Professional Conduct, Rule 1-400, Standard (2), we note that "these testimonials or endorsements do not constitute a guarantee, warranty, or prediction regarding the outcome of your legal matter."



"It is 'golden,' Mr. Hill. I extremely appreciate it and everything you've done for me and my family."
I.F., Pico Rivera
"Attorney Greg Hill promptly took action to prevent possible prosecution that could have cost me my career. He took the time to listen and understood what I was up against. The charge against me was serious and extremely stressful. Mr. Hill advised me of potential consequences and immediately took action to defend me. I was extremely satisfied with the outcome that were a direct result of Mr. Hill's experience, knowledge and tact to address my situation. I would recommend Mr. Hill."

J. K., Culver City

"Attorney Greg Hill was upfront and took a direct approach to resolving charges that could have cost me my career. He took steps immediately to successfully defend me and I would recommend him."

K. J., Los Angeles


"Thanks for all your hard work on this case, Greg. We all really appreciate it."
E.C., Boise, Idaho

"Greg Hill & Associates did an outstanding job in resolving the case significantly short of trial and on terms I found very satisfactory."
G.D., Orange County

"I want to thank you for everything you have done for me and for fighting so vigorously."
J.S., Gardena


"Mr. Greg Hill is an A-list Attorney at an affordable price! I was severely let down by an Attorney. I hired Mr. Hill to do damage control. Although we did not win my petition to dismiss my convictions, Greg Hill did an EXCELLENT job on my behalf. Quality comes with the attention to detail. Mr. Hill is very thorough in his research and is detail oriented. He can be caustic in conversation, but that is exactly what you need representing you in a courtroom. Greg works extremely hard, he really cares, has solid ethics, and is genuinely a good guy. I will forever be a fan! "
M.O., New Zealand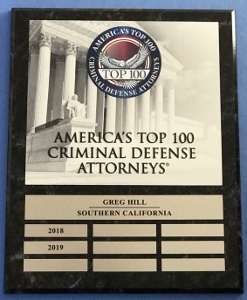 "We're very grateful for all of your efforts in this matter."
V.P., Inglewood

"You have worked a minor miracle. Wow. Thank you for all your hard work. I do appreciate it."
M.S., Torrance
"Thanks a lot for putting extra effort to this case."
J.V., Long Beach

"Thanks for investing in my case. I talked to other attorneys out there and they had an arms-length of attitude, but not you. Your intensity and interest helped a lot. "
C.R., Pomona

"Your the best!"
T.A., Torrance

"Mr. Hill....You are the Mannnnnn... My Brotha... I thank you sooo much from the bottom of my heart...a ton of bricks are of my shoulders...I can now go on with my life... Thanks a million Mr. Hill God bless you and your family... and happy holidays sir."
M.D., Los Angeles


"Thanks for the great job today, and for the past year."
E.E., Venice

"What will always set you apart from other regular attorneys is the extra mile you go for clients."
G.S., Manhattan Beach

"Thank you for all the hard work you do. You are the best."
C.K., Los Angeles

"I am indeed very pleased with the outcome. Thank you very much for all your help and follow-up. I am looking to a good, peaceful sleep tonight."
A.N., Torrance

"Thanks Greg. I really appreciate your work on my case."
C.T., Seattle Washington

"Thank you so much. I am happy with everything you have done for me."
M.N., Marina Del Rey

"That guy (Greg Hill) my friend recommended... he's like a wizard... everything's okay now!"
A.E., Hermosa Beach
"My wife and I would like to thank you for helping us in this matter, especially on the short notice that we gave you to react."
J.K. and R.K., Torrance

"Thank you so much for putting all your effort into this case, Greg. You have no idea how much its helping me sleep at night. I hope the best possible outcome can come out of it and I can go back to being a useful member of society."
P.D., Bellflower


Contact us.