Does Proposition 47 Apply to Joyriding (VC 10851)?
On November 4, 2014, California voters passed Proposition 47. It became effective the following day. It made certain theft and drug offenses misdemeanors unless the offense(s) were committed by someone the proposition described as ineligible.
In a Nutshell: Prop 47 does not apply to reduce a felony violation of Vehicle Code § 10851 to a misdemeanor, even if the value of the car taken is less than $950, according to the Second Appellate District opinion summarized below. The Second Appellate District, the reader should note, includes the Los Angeles County Superior Courts.

If someone is currently serving a sentence for a felony offense for one of the offenses Prop 47 made a misdemeanor, the person can petition the judge to recall the sentence and request resentencing (Penal Code § 1170.18). This is done to obtain a shorter sentence (maybe one year), quite often with credit for time served and, thus, release from prison.
Prop 47 is a fairly straightforward law, however, there is one area that seems to open a Pandora's box of issues. Prop 47 added Penal Code § 490.2, which provides, "[n]otwithstanding [Penal Code] section 487 or any other provision of law defining grand theft, obtaining any property by theft where the value of the money, labor, real or personal property by theft where the value of the money, labor, real or personal property taken does not exceed $950 shall be considered petty theft and shall be punished as a misdemeanor…" Section 490.2 is listed under Penal Code § 1170.18 as one of "those sections [that] have been amended or added" by Proposition 47.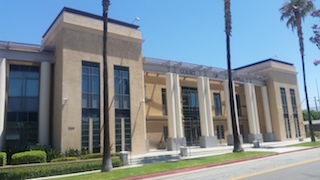 4th Appellate District Division 2 Riverside
Neither Penal Code § 490.2 nor § 1170.18 lists Vehicle Code § 10851 as covered by Prop 47. However, § 10851 is a lesser included offense to Penal Code § 487(d)(1), grand theft auto. People v. Barrick (1982) 33 Cal.3d 115, 128.
This background is necessary for understanding the appeal of Timothy Wayne Page. In San Bernardino County, in 2012, he pleaded guilty to three counts, specifically the unlawful taking of a vehicle (Vehicle Code § 10851(a)), evading an officer with willful disregard for the safety of others (Vehicle Code § 2800.2(a)), and resisting an executive officer (Penal Code § 69). Mr. Page admitted one prior strike conviction and two prison priors. The judge handling the case sentenced Page to ten years and eight months in state prison.
When Prop 47 was passed, Page filed a petition for resentencing under Penal Code § 1170.18(a) as to his Vehicle Code § 10851 conviction. The judge denied his petition, so Page appealed the ruling up to the Fourth Appellate District, claiming Prop 47 applies to § 487, so it must also apply to § 10851.
The Fourth Appellate District began its analysis by explaining that Prop 47 "applied to anyone who would have been guilty of a misdemeanor," if Prop 47 had been in effect at the time.
In Page's case, the Fourth Appellate District stated that Page did not show that he would have been guilty of a misdemeanor, and not a felony, if Prop 47 had been in effect in 2012. Indeed, Vehicle Code § 10851(a) is a wobbler, meaning it could be prosecuted as a felony or a misdemeanor. Prop 47 did not change this. After Prop 47, someone accused of violating Vehicle Code § 10851 can still be prosecuted of a felony violation of this statute.
Page, perhaps knowing this, also argued that if the car's value was less than $950, so a violation of Vehicle Code § 10851 must be alleged as a misdemeanor, as petty theft. The appellate court disagreed, noting that § 10851 did not distinguish the theft as either grand or petty.
Instead, § 10851 "proscribes a wide range of conduct," either "by taking a vehicle with the intent to steal it or by driving it with the intent only to temporarily deprive its owner of possession (i.e. joyriding)."
People v. Garza
(2005) 35 Cal. 4th 866, 876.
Consequently, a violation of Vehicle Code § 10851 cannot be treated in the same way as grand theft, a violation of Penal Code § 487, where the primary analysis is simply the value of the theft (either more or less than $950). Otherwise, there would not be a separate statute for violation of § 10851. The conduct is fundamentally different.
Lastly, the appellate court held that if Proposition 47 were intended to apply not only to reduce the punishment for certain identified offenses, but also any lesser included offenses, we would expect some indication of that intent in the statutory language. Mr. Page provided nothing to show this. Therefore, the court cannot interpose additional changes to the Penal Code or Vehicle Code.
Mr. Page's appeal was thus denied.
We think this ruling and the opinion are important to understand because there are many people eager to apply Prop 47 to their case, but such people need to understand Prop 47's limits more.
The citation for the Fourth Appellate District Court ruling discussed above is People v. Timothy Wayne Page (4th App. Dist., 2015) 241 Cal.App.4th 714 (affirmed by the California Supreme Court in People v. Timothy Wayne Page (2017) 3 Cal.5th 1175).

For more information about the issues in this article, please click on the following other articles:
Contact us.