Does Prop 47 Apply to Theft of a Cell Phone From a Locker?
Why This Article Matters: A school is not a commercial establishment such that a burglary of a locker to steal a cell phone in the locker would qualify as shoplifting (Penal Code § 459.5) under Prop 47.

In May of 2014, J.L. stole another student's cell phone from that student's school locker at Canyon High School, a public high school, in Santa Clarita, California. J.L. was a juvenile.
Earlier in the day, a teacher had found J.L. and another student hiding in the school bathroom after one class. The teacher told them to go to their next class, but they went to the gym locker room. The teacher advised his supervisor, who came to the gym to find J.L. and the other student in the process of using paper clips to open locker locks.
The supervisor took J.L. and the other student to the school office. Another student at the school subsequently reported that his phone was missing from his locker. When interviewed by a School Resource Sheriff's Deputy, J.L. admitted that he and his friend did steal a cell phone and placed it in an empty locker. J.L. then showed the deputy where the cell phone was located.
J.L. and his companion were subsequently arrested and the district attorney's office filed a petition (a complaint in the juvenile court system) against J.L. for violating Penal Code § 459 (burglary), a felony; one count of possession of burglary tools (Penal Code § 466), a misdemeanor; and one count of receiving stolen property of a value not exceeding $950 (Penal Code § 496(a)), a misdemeanor.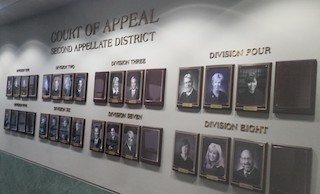 Court of Appeal Second Appellate District Los Angeles
Through plea bargaining, J.L. admitted the first count, felony burglary, and the second two counts were dismissed. The judge then placed J.L. on probation.
Several months later, on November 4, 2014, voters approved the Safe Neighborhood and Schools Act, also known as Proposition 47. It was intended to ensure that spending in prisons is focused on serious and violent offenses and to maximize alternative sentences for nonserious, nonviolent crime. The monetary savings are supposed to then be spent on prevention and support programs in K-12 schools, victim services, drug treatment and mental health services. To generate such savings for prisons, it reclassified certain felony theft and drug offenses as misdemeanors.
People v. Contreras
(2015) 237 Cal.App.4th 868, 889-890.
Prop 47 also created Penal Code § 459.5 to specifically encompass shoplifting. Previously, Penal Code § 459, commercial burglary, would encompass conduct that qualified as burglary and shoplifting. Penal Code § 459.5 covers theft from a commercial establishment during regular business hours, where the value of the item stolen does not exceed $950. Section 459.5 is always a misdemeanor.
Prop 47 also allowed a provision, added as Penal Code § 1170.18, to allow certain offenders to seek resentencing of specified felony offenses as misdemeanors as long as the individual is not otherwise disqualified. Prop 47 does apply to juvenile offenders.
Alejandro N. v. Superior Court
(2015) 238 Cal.App.4th 1209, 1225.
In January, 2015, J.L. sought resentencing of his felony burglary offense to misdemeanor. He argued that his taking of a cell phone from the locker was shoplifting under Penal Code § 459.5 because it took place during normal business hours.
The juvenile court denied the motion, saying that the school was not a commercial establishment. J.L. then appealed to the Second Appellate District, arguing that section 459.5 does not define "commercial establishment." He argued that a school is like a commercial establishment insofar as it maintains regular hours of operation, engages with the public, and has employees such as those involved with accounting, inventory, accepting phone calls and payroll.
The appellate court, in
People v. J.L
. (2015 DJDAR 12995), disagreed. It said that in interpreting any statute, it must give words their ordinary meaning.
People v. Briceno
(2004) 34 Cal.4th 451, 459;
Horwich v. Superior Court
(1999) 21 Cal.4th 272, 276. A school is not a store or business first. Its purpose is to educate (except perhaps at the school bookstore or cafeteria). It is not commerce, as it is with a commercial establishment.
Therefore, the appellate court affirmed the trial court's denial of J.L.'s petition for resentencing, agreeing that burglary is ineligible for reclassification under Prop 47.
The citation for the Second Appellate District Court ruling discussed above is In re J.L. (2nd App. Dist. 2015) 242 Cal.App.4th 1108, 195 Cal.Rptr.3d 482.

For more information about the issues in this case, please click on the following articles:
Does Proposition 47 (Prop 47) Apply Automatically or Must One Affirmatively Request Reduction of an Offense?
Contact us.