Does Prop 47 Apply to Joyriding (VC 10851(a))?
Since Proposition 47 became law in November of 2014, there have been a series of attempts by felons to have felony convictions reduced to misdemeanors for offenses not explicitly specified as eligible for reduction. Some have been successful; some have not.
Why This Article Matters: A felony conviction for "joyriding," Vehicle Code § 10851, is not eligible for reduction to a misdemeanor, the Third Appellate District Court ruled in the following case summarized below because it was excluded under Prop 47 at the outset and taking someone's car is fundamentally different and more consequential to the victim than stealing a box of cereal at a grocery store.

The offenses specified as eligible for reduction under Proposition 47 are three drug possession offenses: Health and Safety Code § 11350 (possession of a controlled substance such as Molly, heroin, cocaine, GHB, ketamine, as well as others), 11357 (possession of marijuana for personal use), and 11377 (possession of methamphetamine for personal use).
Proposition 47 also lists certain theft offenses as eligible, specifically forging or writing bad checks (Penal Code §§ 473 and 476a), receiving stolen property (Penal Code § 496) and petty theft. Petty theft is defined by a new code section, § 490.2, which defines petty theft as involving "money, labor, realty or personal property" with a value less than $950 "notwithstanding section 487," which specifically defines grand theft based on value or the type of property, "or any other provision of law defining grand theft." The law also created a new code section, 459.5, which it called shoplifting to distinguish it from commercial burglary.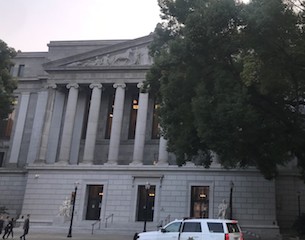 Court of Appeal Third Appellate District Sacramento
Proposition 47 made certain people ineligible for such reductions if they are a registered sex offender or someone who had a prior conviction for specified "super strikes" like attempted murder, murder, mayhem, arson, train wrecking, assault with a machine gun and other highly serious or very violent felonies.
The relief of Proposition 47 was retrospective, meaning someone with an eligible conviction from twenty years ago could petition for reduction as long as the individual was not personally disqualified.
The key analysis for a judge in reviewing such a petition was to determine if the prior conviction would have been a misdemeanor earlier had Prop 47 been in effect at that time.
The provision under Proposition 47 that so many petitioners have attempted to invoke to have a judge reduce their conviction is Penal Code § 490.2, as it suggests that certain theft offenses could be considered analogous to petty theft with a liberal interpretation of the initiative.
Would joyriding, a violation of Vehicle Code § 10851(a), qualify under § 490.2 of Prop 47? Mr. Pharaoh Haywood, who was convicted of violating 10851(a) as a felony in 1996, argued it would. The trial court in Sacramento County, which ruled on his initial petition, said it would not.
Mr. Haywood then appealed to the Third Appellate District, arguing that the trial court made a mistake. The Third Appellate District, in
People v. Pharaoh Haywood
(2015 DJDAR 13875), agreed with the trial court.
Its reasoning is what is important and why this article was written. The Third Appellate District pointed out that among the many dozen theft offenses that could have been included as being eligible for reduction under Proposition 47, only six were. It then quoted a Latin phrase that judges like to repeat – expresio unius est exlusio alterious – meaning the inclusion of only certain items in an associated group gives rise to a strong inference of a deliberate choice to exlude any items not mentioned.
Strang v. Cabrol
(1984) 37 Cal.3d 720, 725;
The Formula, Inc. v. Superior Court
(2008) 168 Cal.App.4th 1455, 1462-1463.
Moreover, the appellate court pointed out that taking someone's car is distinguishable from shoplifting or forgery, both included offenses, in that joyriding provokes a feeling of outrage and anger because people generally have just one car, a car upon which they depend exclusively for many things. The joyrider also uses the car, driving it away without consent, which further distinguishes the offense from shoplifting, for example.
In addition, in reviewing the legislative history of Prop 47, the appellate court found no mention of 10851 as possibly being included, indicating it was never considered as possibly being within the legislative intent of Prop 47.
Thus, the appellate court refused to sweep 10851 under the 490.2(a) "catchall provision" and affirmed the denial of Haywood's petition.
The citation for the Third Appellate District Court ruling discussed above is People v. Pharaoh Haywood (3d App. Dist., 2015) 243 Cal.App.4th 515.

For more information about Prop 47 issues, please click on the following articles:
Does Proposition 47 (Prop 47) Apply Automatically or Must One Affirmatively Request Reduction of an Offense?
Contact us.