Does Penal Code § 459.5 Include Theft by False Pretenses?
Brief Synopsis: Penal Code § 459.5 includes theft by false pretenses, as long as the value of the item(s) at issue to be stolen are worth less than $950, as the following case summary out of the Fourth Appellate District held in the case of a guy trying to sell a stolen surfboard to a surfshop.

In 2004, Michael Fusting walked into a San Diego County surf shop, intending to sell a stolen surf board to the shop. The value of the surfboard was far below $950. The surf shop employees shop recognized the board, knew Fusting was not the owner and called the police.
Fusting never sold the board. Instead, he was arrested and taken to jail. He was later charged with felony commercial burglary, as he did enter a commercial establishment with the intent to commit a felony therein. He eventually resolved the case by pleading no contest to a violation of Penal Code § 459, felony commercial burglary.
In November, 2014, California voters passed Proposition 47 and shortly thereafter, Fusting petitioned to have his felony conviction reduced to a misdemeanor. Under the newly enacted Penal Code § 459.5, titled shoplifting, it prohibited "entering a commercial establishment with the intent to commit larceny."
The San Diego trial court judge hearing Fusting's petition denied the request for reclassification of the felony to a misdemeanor, reasoning that entry into a building with the intent to commit theft by false pretenses was not shoplifting under Penal Code § 459.5.
Fusting appealed to the Fourth Appellate District, arguing that the trial court's analysis of Penal Code § 459.5 was flawed. He argued that the intent to commit larceny as used in § 459.5 should be interpreted using well-established definitions of larceny existing prior to the enactment of § 459.5.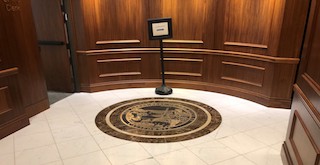 Fourth Appellate District Court of Appeal Division 1 San Diego
The Fourth Appellate District Court framed the analysis of whether a dictionary meaning of shoplifting should be used or whether the definition of larceny, as settled by prior decisions, should apply.
The appellate court decided it should follow well-established prior definitions of larceny. This meant it agreed with Mr. Fusting and that it would reverse the trial court judge.
The appellate court explained that it was bound to look to statutory language. Historically, the term "larceny" as used in a burglary context, includes all types of theft, including theft by false pretenses.
People v. Dingle
(1985) 174 Cal. App. 3d. 21, 30;
People v. Nguyen
(1995) 40 Cal. App. 4th 28, 31;
People v. Parson
(2008) 44 Cal. 4th 332,353-354.
Moreover, the appellate court noted that Penal Code § 490a provides, "[w]herever any law or statute of this state refers to or mentions larceny, embezzlement, or stealing, said law or statute shall hereafter be read and interpreted as if the word 'theft' were substituted therfor." Therefore, theft by false pretenses would certainly seem to be included within the meaning of larceny as used in Penal Code § 459.5.
Adopting this approach was endorsed in
Nguyen
,
supra
, wherein Mr. Nguyen was convicted of burglary for entering the premises of another with the intent to commit theft by false pretenses.
In addition, the appellate court commented that its inclusion of theft by false pretenses in the definition of larceny was consistent with the voters' overall intent in passing Prop 47. That intent was to "require misdemeanors instead of felonies for petty theft and drug possession, unless the defendant has prior convictions for specified violent or serious crimes." Ballot Pamphlet, General Election (November 4, 2014) (text of Prop. 47, § 3, p.70).
The appellate court then said "petty theft by false pretense is precisely that type of non-serious, non-violent crime Proposition 47 was aimed towards affecting." For example, it noted, Prop 47 includes forgery and drafting checks without sufficient funds of less than $950. Penal Code § 473 b, 476a.
Finally, then appellate court commented that were it to interpret "larceny" differently in § 459.5 than it is interpreted in § 459, this would be inconsistent interpretations of closely related statutes. One would ignore the mandate of § 490a, while one would follow it in the very next statute, or visa versa. To adopt such an approach would make no sense.
Consequently, the appellate court found Penal Code § 459.5 includes attempted theft by false pretenses.

The citation for the Fourth Appellate District Court ruling discussed above is People v. Michael Fusting (4th App. Dist., 2016) 1 Cal.App.5th 504.

For more information about Prop 47 and theft by false pretenses, please click on the following articles:
Contact us.