Do Gang Enhancements (P.C. § 186.22(b)) Bar Prop 47 Relief?
There is no dispute that Proposition 47 permits a felon convicted of violating Penal Code § 496 to petition the sentencing court to request resentencing if the value of the property at issue was $950 or less and the felon is not otherwise disqualified. This is set forth at Penal Code § 1170.18
About This Article Briefly: A sentencing enhancement, such as a gang enhancement, is irrelevant in the Prop 47 analysis in determining if a felony is eligible for reduction to a misdemeanor.

The felon requesting resentencing must show as a threshold matter that if Prop 47 had been in effect at the time of the offense, the crime instead would have only been charged as a misdemeanor.
A person is disqualified from relief under Prop 47 if he or she has a prior conviction described as a "super strike" under Penal Code § 667(e)(2)(C)(iv) or is a registered sex offender under Penal Code § 290.
In 2003, Leo Sweeny was convicted in Riverside County Superior Court of ten felonies, each stemming from a bank robbery. He was sentenced to 82 years to life in prison.
After Prop 47 was passed in November of 2014, Sweeny filed a petition to reclassify two of his felony convictions, each for violating Penal Code § 496(a), receiving stolen property, as misdemeanors. Even if granted, the change from felony to misdemeanor in each conviction would not charge the total sentence for him.
It is important to note that in his convictions for violating § 496(a) (one involved a 1984 Toyota van and one involved a 1985 Oldsmobile); Sweeny admitted that the crimes were committed to benefit a criminal street gang. In sentencing, the judge in Riverside County noted the convictions were subject to a sentencing enhancement under subsection (b) of Penal Code § 186.22. Sweeny also admitted two priors strike convictions.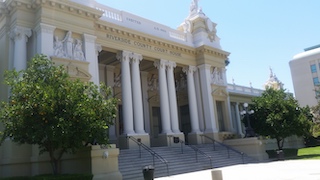 Old Riverside Courthouse
In opposition to Sweeny's petition for resentencing, the People argued that he was ineligible for resentencing because he admitted the gang enhancement under § 186.22(b), meaning his crimes would be felonies, not misdemeanors, under § 186.22(d). Subsection (d), in other words, elevates a gang-related misdemeanor to a wobbler.
The trial court judge then denied the petition and Sweeney appealed to the Fourth Appellate District.
Sweeney argued that the trial court judge erred by deciding his felony convictions for 496 remained felonies after Proposition 47 passed due to the gang enhancements.
The People, in opposing Sweeney's appeal did not argue that the judge was correct on the effect of a gang enhancement on a misdemeanor, but instead argued Sweeney should be denied relief because he failed to affirmatively show that the value of the two cars was $950 or less.
The appellate court, in
People v. Leo Sweeney
(2016 DJDAR 10367), agreed with Sweeney that the trial court made a mistake, but remanded the case for Sweeney to submit evidence as to the value of the cars.
The decision is noteworthy because it distinguishes between what is a misdemeanor at the time of an offense (Prop 47 is denied) and what is a misdemeanor at the time of sentencing.
In other words, the effect of a sentencing enhancement is irrelevant for purposes of Prop 47 analysis, as the relevant point for consideration is the offense level at the time the offense is committed. Indeed, a gang enhancement must be pleaded and proven.
People v. Mancebo
(2002) 27 Cal. 4th 735, 747.
Moreover, here, the prosecution alleged that 186.22(b) applied for a sentencing enhancement to the misdemeanor. The prosecution failed to allege 186.22(d) elevated the offense to a wobbler and thus, defendant was not on notice of this intent by the prosecution. Parenthetically, it is worth remembering that this offense took place in 2003, eleven years prior to the passage of Prop 47 so it was not foreseeable by the prosecution at that time that the Penal Code § 496 convictions might be later reduced to misdemeanor by Proposition 47.
Regardless, the prosecution never invoked Penal Code § 186.22(d) until well after Sweeney was convicted.
Moreover, even if a felony conviction is accompanied by a gang enhancement, necessarily making it a strike (Penal Code § § 667(d) (1), 1192.7(c) (28);
People v. Briseno
(2004) 34 Cal. 4th 451, 456), there is no law or case that says a strike cannot be reduced to a misdemeanor under Prop 47 (see Penal Code § 667(d) – (i), 1170.12, 1170.18;
People v. Superior Court (Alvarez)
(1997) 14 Cal. 4th 968, 981 [trial court can reduce a wobbler that would otherwise be a strike to a misdemeanor under Penal Code § 17(b)]. Consequently, the appellate court reversed the trial court ruling, with leave for Sweeney to file an amended petition to address the value of the cars at issue.
We think this is a good ruling to note, as many people believe that if there is a gang enhancement, why even try to reclassify the felony to a misdemeanor. They do not look into it closely when they should.
The citation for the Fourth Appellate District Court ruling discussed above is People v. Leo Sweeney, but it was ordered under California Rules of Court, Rule 8.1115(a), not to be published and therefore it cannot be cited to in any filing with a court.

For more information about the limitations of Prop 47, please click on the following articles:
Contact us.