Do Community Property Principles Bar Inter-Spousal Theft?
Jose Aguilera was convicted of felony second degree robbery (Penal Code § 211) of his wife and misdemeanor battery against her (Penal Code § 243(e)(1)). The property taken was a cell phone. He allegedly punched her and choked her as well.
This case raises critical questions of whether fundamentals of community property bar a theft claim by a wife if her husband takes something that is community property? After all, can one be convicted of stealing from oneself? Does it matter if it is a cellphone or a car?
Why This Article Matters: Concepts of separate and communal or community property are not defenses to a robbery prosecution involving property taken by one spouse from another spouse.

In
People v. Llamas
(1997) 51 Cal.App. 4th 1729, the court of appeal ruled that one spouse "may be liable for the theft [of] a community property asset" (at 1739), but that "when a spouse takes a community property vehicle with the intent to temporarily deprive the other spouse of its use, no violation of Vehicle Code § 10851 occurs since in legal effect that spouse has not taken a vehicle not his or her own." In other words, the
Llamas
case suggests theft can take place, but not of a car owned by the two.
In the case of Jose Aguilera, after his conviction for second degree robbery of his wife's cell phone, he appealed his conviction. After all, Judge Michael Abzug sentenced him to five years of formal probation, subject to him serving 365 days in county jail.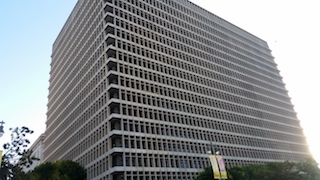 Clara Shortridge Foltz Criminal Courts Building CCB Downtown LA
The Second Appellate District, in People v. Jose Aguilera (2016 DJDAR 989), began its analysis by noting that the prosecutor's theory of the crime was that Aguilera took the phone to prevent his wife from calling the police while he was violently assaulting her, thus intending to remove it from her possession for an extended a period of time so that she would be deprived of a major portion of the value or enjoyment of the cell phone." Testimony at trial suggested that the phone was presumptively community property.
Aguilera's theory, relying on
Llamas
, was that when the taking involves community property, it cannot be robbery if the intent is to only temporarily deprive the other spouse of the item as opposed to permanently deprive the spouse of the item. At his trial, the evidence failed to show an intent to permanently deprive his wife of the phone.
The court of appeal disagreed with Aguilera, holding that one spouse can be convicted of robbing the other of community property on a temporary taking theory. The court held that concepts of separate and community property are immaterial to a robbery prosecution.
The appellate court reached this conclusion by first noting that the presumption of community property is easily rebutted (see
In re Marriage of Haines
(1995) 33 Cal. App. 4th 277, 290) and to the extent that Aguilera's wife testified that her cell phone was a gift to her from Aguilera, this may have rebutted the presumption that all property acquired during marriage is community property (Family Code §§ 760,751, 1100(a) and 1100(c)). This presumption is premised on Article 1, § 21, of the California Constitution, which states "property… acquired during marriage by gift… is separate property."
The appellate court said, however, that even without this distinction, under
Llamas
, a theft can occur of even community property when the taking spouse takes an item and in doing so, "exceeds the taking spouse's interest in the property, and thus constitutes a taking of property not owned by the taking spouse." In
Llamas
, the court said "theft occurs when a co-owner takes jointly held property with the intent to permanently deprive other owners of their interest in that property."
Llamas
, at 1738.
Llamas then specified that such a principal did extend to community property by citing to
People v. Sobiek
(1973) 30 Cal. App. 3d 458 and
People v. Kahanic
(1987) 196 Cal. App. 3d 461 (involving one spouse vandalizing community property). In
Kahanic
, a wife threw a bottle through the window of a community property vehicle. She was convicted of vandalism, which is when someone maliciously damages real or personal property "not his own." In
Kahanic
, the court upheld the conviction because the crime was the physical act against the ownership interest of another, even if the ownership is less than exclusive."
Kahanic,
at 1738-1739.
Based on these decisions, the court in Llamas held that "a spouse can be criminally liable for the theft of community property." Id; at 1739. The appellate court in Aguilera thus relied on this holding to uphold Aguilera's conviction of robbery for his wife's cell phone.

The citation for the Second Appellate District Court of Appeals ruling discussed above is People v. Jose Aguilera (2d App. Dist., 2016) 244 Cal.App.4th 489.

For more information about issues involving crimes between spouses or involving spouses as witnesses, please click on the following articles:
Will the Prosecutor Dismiss the Domestic Violence Case if the Victim Will Not Testify or Appear at Trial?
Contact us.