Can First Degree Burglary Occur If an RV Is the Dwelling?
The crime of first degree burglary is a significant crime because the act takes place in an inhabited dwelling or inhabited vessel, floating home or "trailer coach." It violates a person's feeling of being secure from attack in a home. In other words, it is a crime in one's home, as compared to second degree burglary, which is not in a home, but at a store or commercial establishment.
Summary in 50 Words or Less: An inhabited RV can be considered a residence for purposes of residential burglary when the RV was used as a home by its inhabitants for several years.

First degree burglary is defined at Penal Code § 460. The text shows an intent to limit those crimes defined as first degree burglary by stating "all other forms of burglary are of the second degree." Penal Code § 459 then has a broader and lengthier definition of burglary, which has, by implication of Penal Code § 460, been termed second degree burglary.
Within the meaning of "inhabited dwelling" in Penal Code § 460, prosecutors have attempted to include any type of building not included in the long list of buildings listed under § 459. Section 459's list includes a house (uninhabited or else § 460 would apply), "room, apartment, tenement, shop, warehouse, store, mill, barn, stable, outhouse or other building, tent, vessel" (as defined under § 21 of the Harbors and Navigation Code), "floating home, railroad car, locked or sealed cargo container, whether or not mounted on a vehicle, trailer coach" (as defined under § 635 of the Vehicle Code), any house car (as defined by § 362 of the Vehicle Code), inhabited camper, vehicle, aircraft, or mine or any underground portion thereof, "with intent to commit grand or petit theft or any felony therein is guilty of burglary."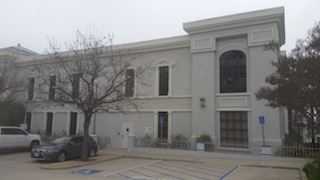 Second Appellate District Division 6 Ventura
Many burglaries are of inhabited homes, but some are not so clear and whether 459 or 460 applies becomes a debate.
In the case of Angel Robert Trevino, the issue was whether his entry into an inhabited recreational vehicle (RV) was first degree or second degree burglary.
The factual background was that Trevino and his wife, Linda, went to dinner with another couple, the Coggins in Santa Barbara County. The Coggins had been living in an RV for several years. It had a bed over the cab. The Trevinos parked nearby in their van. Both couples appeared to be retiring for the night.
About 2:15 a.m., Trevino woke up the Coggins and asked for a cigarette. It is unclear if the Coggins obliged, but what was clear is that Trevino went back to his van and the Coggins heard Trevino arguing with his wife. Trevino then drove away in the van, only to return a few minutes later. The Coggins then heard Trevino punching his wife and kicking her in the shins.
Trevino then drove away again, leaving his wife, Linda, behind. The Coggins invited her into their RV. When Trevino returned several minutes later, he pounded on the RV's door and demanded that Linda come out. When the Coggins told Trevino to go away, Trevino broke into the RV and grabbed Linda by her clothing, pushing her down on the floor of the RV and kicked her. The Coggins called 911 and the police, who came and arrested Trevino.
Trevino was charged with first degree residential burglary of an inhabited dwelling (Penal Code §§ 460), domestic violence (Penal Code § 273.5), battery with serious bodily injury (Penal Code § 243(d)), felony and vandalism (Penal Code § 594(b)(1)).
Trevino made a motion to dismiss the first degree burglary allegation under Penal Code § 1118.1. He argued that because the Legislature included burglary of a "house car" and motor vehicles under § 459, but not in § 460, it intended to exclude vehicular burglaries from those classified as first degree.
The trial court denied the motion, relying upon
People v. Wilson
(1992) 11 Cal.App.4th 1483, wherein the appellate court found a tent is an "inhabited dwelling" or building for purposes of § 460. The trial court analogized an RV to a tent insofar they both have walls and roof.
At trial, Trevino was convicted of all counts except battery with serious bodily injury. The trial court judge sentenced Trevino to probation, conditioned upon him serving 240 days in county jail, with 105 days of presentence credit.
Trevino then appealed to the Second Appellate District. He relied largely upon
People v. Moreland
(1978) 81 Cal.App.3d 11, in which defendant discharged a firearm into an RV and was convicted of shooting at an "inhabited dwelling house." The court of appeals then reversed, holding that an RV was not included in the definition of "inhabited dwelling house" under Section 246 (shooting at an inhabited dwelling house). Moreover, an RV is not fixed to the ground like a home and can be moved easily.
The Second Court of Appeals in Trevino disagreed, at People v. Angel Robert Trevino (2016 DJDAR 6743), distinguishing Moreland from the Trevino case because Moreland did not address an inhabited dwelling in the context of 459 and 460. Moreover, here, it was undisputed that the RV was the Coggins' sole place of abode. They had inhabited it for several years.

The citation for the Fourth Appellate District Court ruling discussed above is People v. Angel Robert Trevino (4th App. Dist., 2016) 1 Cal.App.5th 120.

For more information about burglary and issues involving RV's, please click on the following articles:
Contact us.