Can a Judge Condition Prop 47 Relief upon Plea Withdrawal?
While Proposition 47 represents a windfall to many defendants, prosecutors grumble about how it can wipe away plea bargains that were negotiated for weeks and with great effort.
Judges, many of whom used to be prosecutors, see defendants enter into favorable plea bargains to felonies only to march back into court and request the felony be reduced to a misdemeanor, cutting their sentence and making the sentence even more favorable. It is easy to understand that judges must think the defendants are smirking and ignore their doubly-received good luck.
In a Nutshell: A judge may not offer to grant Prop 47 relief only if defendant agrees that the entire plea bargain is withdrawn, as this would then permit the mischief of letting the prosecutor negotiate a new disposition, which might effectively preserve the terms of the original (pre-Prop 47) resolution or even make it more tough. The appellate court recognized the potential for such gamesmanship and ordered the trial court to grant the Prop 47 petition for resentencing.

The following appellate decision arising out of a Monterrey County case exemplifies this tension.
Eric Anthony Dunn was stopped by a Salinas police officer in March, 2014 in the Chinatown area of Salinas, an area known for drug trafficking. The officer determined that Dunn was on probation and driving on a suspended license. He was then arrested.
During a search incident to an arrest, the officer found cocaine in Dunn's pants pocket. Dunn claimed the pants belonged to his brother and that he had no idea there was cocaine in the pocket.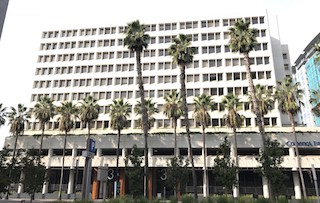 Court of Appeal Sixth Appellate District San Jose
The officer also searched Dunn's car and found multiple baggies of a white powder, which was suspected to be cocaine as well. Police also found $571 in small bills, eighteen rounds of .38 caliber ammunition and thirty-five rounds of .25 caliber ammunition, as well as a police scanner.
Dunn was charged with three felonies: possession of a controlled substance for sale (Health & Safety Code § 11351), possession of a controlled substance (Health & Safety Code § 11350) and being a felon in possession of ammunition (Penal Code § 30305(a)(1)). It was also alleged that Dunn had two prison priors (Penal Code § 667.5(b)).
In July, 2014, after several months of plea negotiations, Dunn pleaded no contest to possession of a controlled substance (Health & Safety Code § 11350). The plea included a split sentence of five years wherein all other counts were dismissed. Dunn agreed he would serve three years in state prison and one year for each prison prior.
The judge then ordered Dunn to serve two years and six months in Monterey county jail and suspended the remainder of the five-year term.
Four months later, in November, 2014, voters approved Proposition 47, also known as the Safe Neighborhoods and Schools Act. Dunn's conviction for violating Health & Safety Code § 11350 was eligible for reduction to a misdemeanor as long as the judge did not find doing so "would pose an unreasonable risk of public safety."
Under Penal Code § 1170.18(a), Dunn then petitioned the court for a sentence recall and reclassification. As discussed at the outset of this article, this petition surely upset the prosecutor who negotiated the resolution of the underlying three felonies.
Indeed, the prosecution opposed the petition, arguing that recalling the sentence and reclassifying it as a misdemeanor would deprive the public of the benefit of the plea agreement. The People argued that Dunn had received a significant benefit under the plea bargain because the People dismissed a count that "could have resulted in a life sentence for defendant."
The judge then denied Dunn's petition, reasoning that the People would be deprived a material aspect of the negotiated disposition if the petition were granted. The judge offered to permit Dunn to withdraw his plea in conjunction with his petition, but Dunn did not want to do so.
Dunn then appealed to the Sixth Appellate District, arguing that the judge made a mistake in ruling that he could deny the petition if the conviction resulted from a negotiated plea.
The appellate court agreed with Dunn that a judge may not do so and also may not grant the prosecution's request to withdraw from a plea agreement, as here was also contemplated, "to unwind the disposition, reinstate dismissed charges and thus prevent Prop 47 relief."
The appellate court specifically stated that
People v. Collins
(1978) 21 Cal.3d 208, wherein the prosecution did so withdraw from a plea bargain, did not apply here.
Moreover, here, "there was no dispute that defendant was otherwise eligible for resentencing under Proposition 47" and the trial court "did not consider the merits of the petition." These are pretty harsh words by an appellate court in speaking of a trial court judge.
The appellate court then reversed the order denying the petition.
The citation for the Sixth Appellate District Court ruling discussed above is People v. Eric Anthony Dunn (6th App. Dist., 2016) 248 Cal.App.4th 518." No other changes needed.

For more information about Prop 47, please click on the following articles:
Contact us.