Can a Judge Condition Probation on a Fifth Amendment Waiver?
It is commonly understood that a judge can condition probation on a Fourth Amendment waiver, i.e. in drug cases or sex offender cases, but can a judge require a probationer to waive his or her Fifth Amendment right, too?
After all, a judge does have broad discretion to impose terms and conditions of probation as long as the condition is not "arbitrary, capricious or exceeds the bounds of reason under the circumstances."
People v. Jungers
(2005) 127 Cal. App. 4th 698, 702. Other courts have addressed questionable probation conditions, with
People v. Lent
(1975) 15 Cal. 3d 481, at 486, setting forth the standard most often quoted, specifically: "a condition of probation will not be held invalid unless it (1) has no relationship to the crime of which the offender was convicted, (2) related to conduct which is not itself criminal, and (3) requires of forbids conduct which is not reasonably related to future criminality."
Why This Article Matters: A judge may not condition probation on defendant agreeing to waive his Fifth Amendment right against self-incrimination.

The case of Michael Forney put these standards to the test. Mr. Forney was convicted in Sonoma County of certain sex offenses (unlawful oral copulation, Penal Code § 288a(b)(2), and unlawful sexual intercourse, Penal Code § 261.5(d)). At sentencing, he was placed on three years of formal probation. As a condition of probation, the judge ordered that Forney was required to waive his Fifth Amendment right against self-incrimination and submit to regular polygraph tests as part of a sex offender management program under Penal Code § 1203.067(b)(3).
Forney challenged the validity of the Fifth Amendment waiver as required under § 1203.067(b)(3). He filed his appeal in the First Appellate District Court.
The appellate court began its ruling by noting that California Supreme Court had already accepted for review the validity of the sex offender management program's Fifth Amendment waiver and polygraph requirement, a statutory requirement under § 1203.067(b)(3), but not ruled yet. In fact, there were four pending appeals challenging such probation conditions under § 1203.067(b)(3).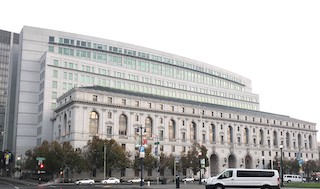 Court of Appeal First Appellate District San Francisco
It then explained that binding United States Supreme Court precedent held that a probationer cannot be compelled to relinquish his Fifth Amendment right against self-incrimination.
Minnesota v. Murphy
(1984) 465 U.S. 420, 435-37 and fn. 7; see also
McKune v. Lile
(2002) 536 U.S. 24, 35. Thus, the probationer faces a tough choice – voluntarily waive the right against self-incrimination in order to enjoy probation or decide not to waive the right and face prison or jail. This, the appellate court thought, was an unreasonably coercive.
In
Murphy
, defendant was subject to a probation condition that he participate in a sex offender treatment program, report to the probation officer as directed, and be truthful with the probation officer "in all matters." During his treatment program, defendant then admitted to a prior murder and rape. The admissions were then reported to the probation officer, who then met with defendant. Defendant then admitted the same crimes to the probation officer and she reported the offenses to the police. Defendant was subsequently charged with murder and rape. He then moved to suppress the statements.
The issue was whether defendant's failure to invoke his right against self-incrimination was "excused" because the judge had ordered that, as a condition of probation, he be "truthful on all matters" with the probation officer. In other words, was he compelled to incriminate himself?
The U.S. Supreme Court explained that such a situation was a lose-lose for defendant. If he invoked the privilege, he would be punished and if he otherwise waived the privilege, as ordered, he would be prosecuted even more. It thus ruled that such a probation condition was improper and that probationers do retain their right against self-incrimination, which includes the right to remain silent, but if the state compels a probationer to answer potentially incriminating questions, the state must first assure that incriminating answers will not be used in a pending or new criminal proceeding.
The California appellate court in Forney thus ruled that Forney's probation condition requiring him to waive his Fifth Amendment privilege was improper and ordered stricken. Sex offenders on probation under section 1203.067(b)(3) should cheer this ruling and seek to have similar conditions of their probation declared invalid and stricken, too.

The citation for the First Appellate District Court ruling discussed above is People v. Michael Forney (1st App. Dist., 2016) 3 Cal.App.5th 1091.

For more information about probation condition issues, please click on the following articles:
Court Rules That, In Drug Case, a Probation Condition Is Proper That Someone Not Associate with Others He Has Reason to Know Are Drug Users
Contact us.