Before Using an Ignition Interlock Device (IID), Read This.
With the passage of Senate Bill 1046 that allows one to avoid the 30-day "hard suspension" of one's drivers license by installing an ignition interlock device (IID) before the DMV ruling from the admin per se hearing or before the conviction in court, IID's are being installed by more and more drivers after a DUI.
The Gist of this Article: One can avoid a lot of stress in using an IID if he or she reads this article and is aware of some of the device's idiosyncrasies, which are significant.

The IID, however, is not a perfect machine. This article is presented to help a potential IID user or someone who had just installed their IID to make its use as pain-free as possible.
First, it is wise to allocate up to ninety minutes at the IID provider just to have the device installed. It is not a quick installation. After all, keep in mind that a small hole may need to be drilled in one's dashboard to allow a wire to connect between the steering wheel area and the engine's ignition area. Most installers try to avoid drilling such a hole by using an already-existing grommet or entry point in the vehicle's firewall, but if this is not possible, a small hole may be drilled.
Second, it may surprise you to know that an IID needs three to seven minutes of time to "warm up" before being used. This warm up period can be even longer in cold weather. This is so even though the device says "Ready," it really may lock you out of driving the car if used without a warm up. This means you must turn on the car key half-way to let the car battery send electricity to the device first. Then you must wait five to seven minutes.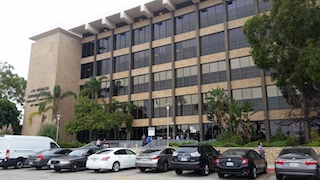 Torrance Courthouse
Three to seven minutes can seem like an eternity if one is rushing off to work or one knows exactly what time to leave for work each morning to avoid traffic. Having to wait three to seven minutes at home before one can even move can mean being late to work by 30 minutes as traffic builds up. Likewise, if one is accustomed to driving kids to school so they make it to campus with exactly three minutes to spare, one ought to factor in the IID warm up time to avoid being late.
Third, be aware that there are a lot of alcohol-containing foods and beverages that, if consumed prior to providing a breath test, may inadvertently result in "lock out." Therefore, take a swig of water and be sure to swish the water all around one's mouth a few seconds before providing a breath sample.
Some examples of such foods are rather obvious: alcohol-based mouth wash, cologne that one applies to one's face and neck, vaping or smoking and cough syrups. Other items that one may not suspect that can cause a false positive are using hand-sanitizer, spraying an air freshener inside the car, using windshield wash fluid to clean off one's windshield (perhaps while letting the IID warm up) and using cleaning wipes inside the car.
We note that food products containing vanilla extract may trigger a lock out because vanilla extract contains alcohol.

We would add that if one is following a KETO diet, stop for the time period of being required to use the IID. Such a diet causes the body to produce more ethanol than normal and this is exhaled from the lungs (as a waste product) and that alone can cause the IID to register a false-positive, locking out the car from being driven.
Fourth, the IID needs to be re-calibrated and serviced every sixty to ninety days, but more frequently if there are violations registered with one's breath sample. This is often called a "re-monitoring appointment." If the device is not serviced as recommended, it will simply lockout ignition of the car and the car will not start, meaning the vehicle will need to be towed to a service center to have the IID serviced.
To know when the device needs service, pay attention to the service light on the device, which will illuminate a few days before the device locks out if not serviced.

For more information about the IID, please click on the following articles: