Attempted Extortion Must Involve Compelling Consent to Pay
In cases involving horrendous facts, legal standards are often relaxed or seemingly forgotten altogether. Convictions are reached on legal theories that often are erroneous, as is the case in the following attempted murder and attempted extortion matter.
Extortion is not a legally difficult concept with nuances and subtleties that trip up the unwary. Under Penal Code § 518, extortion is rather straightforward: it is "the obtaining of property from another, with his or her consent . . . induced by a wrongful use of force or fear." "Fear, such as will constitute extortion, may be induced by a threat . . . to do an unlawful injury to the person or property of the person threatened."
The Point of This Article: To commit attempted extortion, one must make a threat in an attempt to get money or property from another, but not result in the threat recipient tendering the money or property.
Attempted extortion is no more complex. It is defined at Penal Code § 524 as happening when a person attempts "by means of any threat . . . to extort money or property from another." It requires the specific intent to commit extortion and a direct ineffectual act done towards its commission." People v. Sales (2004) 116 Cal.App.4th 741, 749.
In the summer of 2013, Mendeleyevic Martinez Santiago and Gabino Martinez worked at a food truck parked on a street in Hollywood. Santiago worked inside the truck while Martinez worked outside it, operating a grill and a broiler.

At about 3:00 a.m., while Santiago helped customers, Brayan Ochoa walked up to the food truck and knocked on the back door. Santiago opened up a small window in response. Ochoa told Santiago that the food truck "belonged" to the Mara Salvatrucha street gang and that he was there to collect "rent" from the truck owed to the gang. Rent is a payment to the gang for protection while in the gang's territory.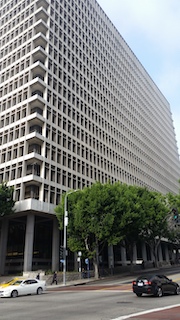 Clara Shortridge Foltz Criminal Courts Building CCB Los Angeles
Santiago said he had no idea that rent was owed and told him to come back the next day to speak to the owner. Ochoa got mad and said he would have "to collect" rent "his way" and then walked away. At the time this short conversation took place, Martinez was standing apart, cleaning the broiler. He did not hear their conversation.
Five minutes later, Ochoa returned to the food truck. He walked up to Martinez (not Santiago) and without speaking a word, shot him in the face. Martinez survived and later identified Ochoa as his assailant.
Ochoa was charged in Los Angeles Superior Court with attempted first-degree murder (Penal Code §§ 664, 187(a)) and attempted extortion (Penal Code §§ 664, 524) of Martinez. The complaint further alleged firearm, gang and great bodily enhancements on both counts.
The jury at the Clara Shortridge Foltz criminal courts building (CCB) convicted Ochoa of both counts and the jury found the special allegations all true. The judge sentenced Ochoa to a total prison term of 52 years to life. Forty years to life was for the attempted murder and twelve years was for the attempted extortion.
Ochoa appealed, arguing that the evidence did not show he attempted to extort any money or property from Martinez.
In People v. Brayan Ochoa (2016 DJDAR 9203), the Second Appellate Court agreed with Ochoa, finding there was no evidence that Ochoa tried to extort anything from Martinez. He did not speak to Martinez at all and there was no evidence that Martinez was ever aware of the earlier demand for "rent" made to Santiago.
The court did point out that about a month prior to when Ochoa shot Martinez, Ochoa had come to the food truck and demanded rent from Martinez, but Martinez had no idea what this was about and there was no threat accompanying the demand. Martinez did not know that "rent" was a gang-related "tax" imposed by a street gang for those operating within its territory.
Consequently, the Second Appellate District reversed the conviction on the attempted extortion count.
The citation for the Second Appellate District Court ruling discussed above is People v. Brayan Ochoa (2d App. Ct., 2016) 2 Cal.App.5th 1227.

For more information about extortion, please click on the following articles:
Those Accused of Smuggling Illegal Immigrants to the U.S., Charged with Kidnapping for Ransom, Can Also Be Charged with Attempted Extortion and False Imprisonment
Contact us.