U.S. District Court Los Angeles, 18 U.S.C. 922(g)(1), 924
Our client, age 33, was arrested in late 2018 and thereafter charged with unlawful possession of a firearm by a felon in U.S. District Court in downtown Los Angeles.

The case arose almost three years after our client was encouraged by a friend to offer to sell a gun to a certain individual that our client was reportedly looking to buy a gun. Our client then contacted that person (unbeknownst to our client, he was a federal confidential informant), offering to sell him a Ruger Model LCR .357 magnum loaded with five rounds for $450. This sale took place in 2015.
The sale was thoroughly recorded on video and audio, with our client meeting the buyer in an Inglewood parking lot and driving around the area for a few miles while chatting and completing the transaction.
This conduct allegedly violated 18 U.S.C. §§ 922(g)(1) and 924(a)(2) (collectively, unlawful possession of a firearm by a felon).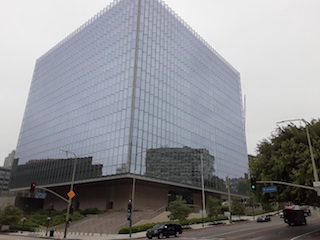 Federal

Our client indeed was a convicted felon from more than one state court cases and was a suspected gang member (the identity of the gang will remain anonymous for this summary). Our client had a prior felony conviction from twelve years earlier for assault with a deadly weapon (Penal Code § 245(a)(1)) and possession for sales of a controlled substance under Health and Safety Code § 11357(a) (possession of more than eight grams of concentrated cannabis) in 2013, then a felony (but later under Prop 64 a misdemeanor). He also had multiple other convictions for misdemeanor offenses, such as DUI and possession of marijuana, many of which our office had expunged (dismissed under Penal Code § 1203.4). Our office also had successfully petitioned to reduce his 11357(a) conviction to a misdemeanor (but for federal court sentencing purposes it was considered a felony nonetheless).
One morning in the fall of 2018, however, our client's live was instantly changed. Federal agents with a search warrant knocked on his front door at about 6:00 a.m. and searched the home, finding our client in possession of a 12-gauge shotgun, 30 rounds of shotgun shells, an AR-style rifle, an AR-style upper receiver, four high-capacity AR cartridges, a G-lock high capacity "drum-style" magazine, a box containing 5.56 caliber rounds and .233 caliber rounds, as well as another bag with .45 caliber rounds and 9 millimeter ammunition. As a convicted felon, he could not legally possess such items. Moreover, he was living with his fiancé and two of their four children at the time.
After being arrested, our client's fiancé contacted Greg Hill & Associates to explain what had happened. She was not aware of the full scope of events, but was aware that federal agents took our client into custody for being a felon in possession of a firearm. She did not know that the incident at issue was really from three years earlier when our client sold the .357 magnum to a confidential informant.
Greg Hill immediately went to the Metropolitan Detention Facility (federal jail) to speak to our client. However, our client, reacting to promises of leniency, had already spoken with federal agents extensively, providing them with detailed information on several gang members both in and out of custody.

Greg and Alexander Griggs then visited with the client and discussed the case. Over the next few months, we obtained the videos and audio of the sale at issue and watched the video with the client. It seemed as if the federal authorities had a very solid case against our client.
Alexander and Greg then discussed possible resolution with the Assistant U.S. Attorney assigned to the case and how the other weapons seized during the client's arrest may or may not be other relevant conduct that would affect sentencing.
According to the U.S. Sentencing Guidelines (U.S.S.G.), at § 2K2.1(a)(4)(A), the base offense level for a violation of 18 U.S.C. § 922(g)(1) (for the possession of a firearm by a felon) is 20. Since he had been convicted of a crime of violence, which assault with a deadly weapon (Penal Code § 245(a)(1)) certainly is, as well as other crimes, he was placed in Category IV for criminal history. Therefore, from the outset, our client faced a sentencing range of 51 to 63 months in federal custody (to be served at 85%).
It the other weapons found were not characterized as being obtained through interstate transport, federal jurisdiction over the items would not attach and they would not be considered other relevant conduct.
The parties, after several months of negotiating, then reached a resolution wherein the client agreed to plea to a violation of 922(g)(1) and the prosecution agreed to a three-level downward deviation for the client's early cooperation and early acceptance of responsibility.
Under U.S.S.G. § 3E1.1(a), early acceptance of responsibility earned our client a two-level deviation downward to offense level 18. This reduced his sentencing range to 41 to 51 months. He then was afforded a further one-level deviation for cooperation with authorities, resulting in a further downward deviation to level 17. This reduced his sentencing range to 37 to 46 months.
After the case had reached a plea, the probation department prepared its sentencing recommendation. This involved a nearly three-hour interview of the client, with Greg and Alex present.
The probation department then recommended a further two-level downward deviation in sentencing due to our client's mental condition and his status as a U.S. Navy veteran suffering from PTSD. This lowered the sentencing range to 30 to 37 months in custody, of which the probation department recommended just 30 months.

Contact us.